Proper Driving Position
While researching the proper driving position we ran into quite a debate on the position of the hands on the steering wheel. The old school way was to drive with your hands in the 10-2 position. When turning you were taught to perform the 'hand-over-hand' maneuver. Now, with the addition airbags, there are several arguments to the contrary. If in an accident in which the airbag deploys, your hands could be slammed into your face breaking your nose or causing a concussion. According to the National Highway Traffic Safety Administration, other injuries include amputation of fingers or entire hands, traumatic fractures and a stomach-turning injury called 'degloving.' Don't look it up… You just did didn't you?… We told you not to. The new school of thought is to drive with your hands in the 9-3 position. (actually 9:30-3:30 is the best) This is to train you to pull down with one hand and push up with the other without crossing your hands. If the airbag were to deploy in a collision, your hands would be forced to the side of your face. Were not saying it won't be painful, but the reality is your fingers are all intact.
Don't forget the important part of this. Airbags are supplemental to wearing your seat belts. Even if you're using the proper hand position, if your seat belts are not fastened, then all bets are off. New research is being conducted on the 8- 4 position however this could lessen a driver's control of the vehicle.(see we told you) There are drivers who prefer the one-hand position. The one-handed driver is not in control of their vehicle and most likely will crash in an emergency. If you're not sure what we mean by the 10-2, 9-3 or 8-4 position, go back to drivers ed and start all over again. Sorry, but that's just tough love.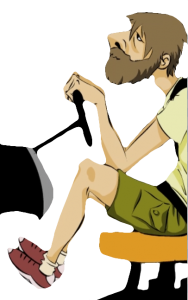 • Your legs should be have a slight bend at the knee, with enough room that you can reach the pedals easily.
• Your knees should not be touching the dash. Make sure there is enough legroom that in the advent of a head-on collision happen and the frontend of the vehicle is crushed, there is enough space to draw your legs back. This will help keep your knees from being crushed if the dash also collapses during impact.
• If your feet can't reach the pedals easily without your chest being too close to the steering wheel then this is not the right vehicle for you.
All material in this video is the Copyright of Comedy Defensive Driving School® and is the Federally Registered Trademark of IDT, Inc. All rights reserved 1989-2015
**This course fulfills the requirements of the Basic Driver Improvement Course (BDI) the Traffic Collision Avoidance Course (TCAC) and Insurance reduction. This course can also be taken voluntarily to brush up on your driving skills.**