Texas Defensive Driving Course
Online Course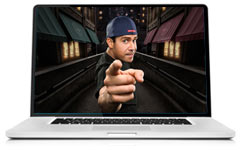 Only $25 with promo code: SPEED
Free, Overnight & E-file Certificate Delivery
ALL VIDEO course: Start & Stop Anytime
Speed through only 5 hours of course time (+1 hour of break time)
Classroom Course
#1 Comedy Course for Classroom Training
Prices Start at only $25!
Only 5 hours of class time

(+1 hour of break time)

State Approved by all TX courts
We'll Make Taking Defensive Driving Fun
As much as we'd love to think you signed up for our course for the jokes, we know taking a defensive driving course is one of those things you just have to do and get it over with. But defensive driving doesn't have to be dull and boring. Learning about state laws and safe driving techniques doesn't have to be dry. With our course, you can learn all about how to be a safer driver and have some laughs in the process. Defensive driving may not be exciting, but for the time you spend completing this course, whether in the comfort of your own home, or in one of our comedy classrooms, one thing is for sure – we make defensive driving fun…and we will help you get you out of your ticket from start to finish
Take Your Defensive Driving Course in the Format You're Comfortable With
Some people like to read, some people like to watch videos, and some people like a little of both. We appreciate that, and at Comedy Defensive Driving we want you to choose whichever learning method is most comfortable and enjoyable for you. So you can watch a video of our course, or you can just read the information, or switch between them. Our goal is to make this course as easy and painless for you to complete as possible.
Find your Local Texas Courts
If you received a ticket, it would have been issued by one of the many law enforcement agencies in Texas. There are municipal courts and Justice of the Peace courts. The best way to know exactly who you got your ticket from is to locate the actual ticket or any paperwork the court may have given you; it will be written on there. If it says Bob's BBQ Brisket, that's your lucky day the officer left the receipt for his lunch. Check this helpful link for a list of courts in Dallas and Houston.
Texas Driving Records
Order your Certified Type 3A Texas driving record directly through us, and receive it instantly via e-mail for only $19.95.
Driving records are required by most Texas courts. Check the paperwork the court gave you for more information and the requirements for dismissing your ticket.
For detailed information about driving records click here for more info.
Take Our Most Popular Program, Our 100% Online Course
With everything from college applications to dating profiles being moved online, why shouldn't you enjoy that same convenience to dismiss your traffic ticket? You can take our defensive driving course on your phone, computer, or tablet, and take it from anywhere you feel most comfortable. We know it can be difficult to set aside 6 hours of your day to take a course, and with our online course option, you don't have to finish it all in one sitting. Stop part way through, and pick it back up later. Complete the course at your leisure.
We Also Offer Classroom Courses in Convenient Locations Near You
While our online defensive driving course is our most popular, if the traditional classroom environment is your preferred way of learning, we've got you covered. All of our courses are taught by professional comedians in cities across Texas. Just visit our Texas Classroom Selection page to find the most convenient location for you. Not only with this help sharpen your defensive driving skills, but you'll laugh and learn with others who are in your boat too.
Reduce Your Auto Insurance Premiums
Did you know that by voluntarily taking a defensive driving course, you can save money on your auto insurance? Many insurance companies offer this incentive to drivers who take the initiative to improve their driving skills. By taking your Texas defensive driving course with Comedy Defensive Driving, here's how you can take advantage of this offer:
1. Contact Your Texas Insurance Provider to Find Out If You Are Eligible for a Discount.
Most auto insurance providers offer some kind of "safe driver" insurance discount, but the specific offer varies. Contact your provider to find out if you are eligible for the discount, and ask for details such as duration, how much you'll save, whether you can take the course multiple times, etc. If you're not entirely sure how this works, feel free to contact us any time for help!
2. Enroll in Our Texas Defensive Driving Course (Online or Classroom).
You can enroll in one of our defensive driving courses online, or by phone, or even just stop by our office and meet us in person.
3. Complete and Pass The Course.
Once you've completed your course, we will mail you a certificate of completion. You can fax, mail, or hand-deliver your completion certificate to your insurance provider. They will process it and reward you with a discount to your premium.
Most Importantly, We Will Help You Become a Better Driver
As important as it is to us to make your defensive driving course fun and entertaining, it's even more important to us to teach you a thing or two about safe driving. Our course teaches best driving practices and habits, Texas traffic laws, and few original jokes to try out for good measure. You'll be well on your way to becoming a safer, more responsible driver . . . we hope. In our course, you'll learn all about:
Texas Driving Laws
Defensive Driving Techniques and Protecting Yourself in Texas
Driving in Hazardous Conditions
Avoiding Common Driving Problem Areas, including Yielding, Turning, and Speeding
Frequently Asked Questions
How Long Does a Texas Defensive Driving Course Take?
The State of Texas requires all defensive driving course to be 6 hours, whether it is taken online or in a classroom. If you choose to take the course online, you can do it all at once or in increments, whatever fits your personal schedule.
How Much Does a Defensive Driving Course in Texas Cost?
The entire course is only $34.95, but look for the coupon code during registration and you can get $9.95 off.
How Often Can I Take a Defensive Driving Course in Texas?
Texas state law allows you to dismiss only 1 traffic ticket every 12 months. But ask the court anyway – the worst they can do is say no.
Which Violations Can Be Dismissed with a Defensive Driving Course?
Speeding, running a red light/sign, driving without a license, not wearing a seatbelt, and driving while using a mobile device are several examples of traffic violations you can dismiss.
Comedy Defensive Driving School® is the Federally Registered Trademark of IDT, Inc. All rights reserved 1989-2018 Texas Education Agency Approved Course for Texas Defensive Driving – Comedy Defensive Driving C1910/C1965 – International Driver Training, Inc. CP333 **This course fulfills the requirements of the Traffic Ticket Dismissal for ALL courts in Texas and for Insurance Reduction. This course can also be taken voluntarily to brush up on your driving skills.**