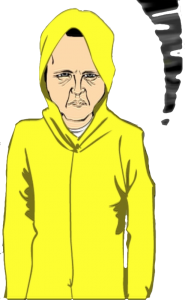 High wind can accompany any type of inclement weather. Rain and snowstorms can produce high winds. You can still experience wind when a high profile vehicle passes you from the opposite direction. High winds are very seldom steady. No matter how experienced you are at driving, a sudden gust of wind could catch you unprepared.
Types of Winds:
• Headwinds – if they are strong and steady enough will make your vehicle work harder. If you are towing a trailer watch your temperature gauge and fuel gauge.
• Tailwinds – will give you a boost. It will assist you in your path of travel and quite often you are not aware of it until you turn across or into it's path.
• Crosswinds – are winds that cross your direction of travel from the side. If they are steady then you can adjust into the direction they are blowing from.
• Artificial crosswinds are created when you are passing or being passed, or you are being passed in the opposite direction from high profile vehicles, such as a semi-truck. Got all that?
Some of the dangers of high winds include:
• Being blown off course – Keep your eyes on the road, and your hands upon the wheel
• Other vehicles can be blown into your path of travel. If its windy for you its windy for others.
• Keep your distance from all other vehicles and be especially watchful of motorcyclists and cyclists.
• Watch for debris in the road. Trash, trees, anything the wind can pick up, can be blown into your path.
• Assess the situation and act accordingly.
• Decide if it is important enough to drive.
• Plan your route.
• Let someone know that you are driving to a location that is experiencing high winds and how long it should take you to arrive.
• Watch weather reports and drive at speeds that are right for the conditions.
All material in this video is the Copyright of Comedy Defensive Driving School® and is the Federally Registered Trademark of IDT, Inc. All rights reserved 1989-2015
**This course fulfills the requirements of the Traffic Ticket Dismissal for ALL courts in Texas and for Insurance reduction. This course can also be taken voluntarily to brush up on your driving skills.**