A windy day can make driving very difficult. Sudden gusts of wind can make steering control difficult. Tail winds come from behind and can push the car, head winds do just the opposite and can slow you down. Crosswinds can push your car from side to side possibly into oncoming traffic. So your best defense is to pull off the road and stop for awhile or reduce your speed.
Be aware of vehicles around you. Remember, high winds are more problematic for drivers of trucks, buses, recreational vehicles, campers, and drivers who are towing trailers. Reduce your speed and correct your steering, especially when moving from a protected area to an unprotected area, or when meeting large vehicles.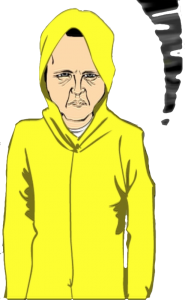 Wind is often accompanied by heavy rain or winter precipitation. Stay alert for slippery areas.
The essential responses when a car is hit by a gust are to back off on the throttle, brake carefully if necessary and hold the steering wheel firmly to regain control. At all times in high winds, moderate your speed, keep a safe distance from vehicles around you and look ahead at trees, hedges and overhead cables to get clues to the wind's direction and strength. Or best of all, stay home.
All material in this video is the Copyright of Comedy Defensive Driving School® and is the Federally Registered Trademark of IDT, Inc. All rights reserved 1989-2015
**This course fulfills the requirements of the Basic Driver Improvement Course (BDI) the Traffic Collision Avoidance Course (TCAC) and Insurance reduction. This course can also be taken voluntarily to brush up on your driving skills.**