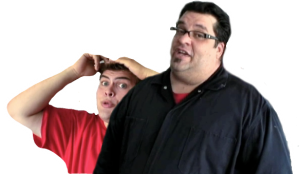 A walk-around inspection takes only minutes but can save you endless trouble.
Begin your walk around inspection by checking the tire treads for wear. Some tires come with built in wear bars, and if you can see them you might as well put a fork in your tires, they're done. Watch out for bulges, cuts and blisters. Bulges, cuts and blisters on your tires signal an impending blowout. Also check for nails, rocks, glass, or other hazards stuck in the treads. You'll be glad you did.
Check all fluid levels routinely. Check your power steering fluid. Your car's power steering and power brake systems won't work properly with low fluid levels. Oil is the car's blood, so make sure you check it regularly. Check your battery connections. Don't forget to check all your electrical systems too. Just remember, if your car loses electrical power, its going to make power steering and brakes difficult to operate.
Have your muffler inspected. A faulty muffler could cause carbon monoxide to leak into your vehicle causing drowsiness and fatigue. Too much exposure to carbon monoxide could be fatal. Make sure that your turn signals are working. Make sure your headlights are in good working order, both the high and low beams. Dirty headlights can make you lose up to 90 percent of the illumination they provide. They should be properly adjusted so they don't blind other drivers.
If you can find a tag team partner try both your brake lights and reverse lights to make sure they are operating correctly. A police officer at anytime may stop and submit your vehicle to an inspection if they have any reasonable cause to believe that your vehicle is unsafe. If your vehicle is found to be unsafe the officer may require the vehicle to be immediately repaired or the vehicle to be immediately removed from use.
All material in this video is the Copyright of Comedy Defensive Driving School. ® is the Federally Registered Trademark of IDT, Inc. All rights reserved 1989-2015
**This course fulfills the requirements of the Traffic Ticket Dismissal for ALL courts in Texas and for Insurance reduction. This course can also be taken voluntarily to brush up on your driving skills.**