One of the first things a new pilot will learn is the importance of the pre-flight check, or as we like to call it a "Walk Around Inspection." Using a list – they carefully exam the exterior of the plane. Checking control surfaces, moving ailerons and tail fins. Visually checking the fuel quantity and fuel quality. They check the tires and the most import thing they will check is the propeller. Without the propeller the plane won't fly.
Pilots will follow this procedure prior to every flight. It becomes almost ritualistic. Why? The last thing a pilot wants to deal with is something they could have fixed on the ground. It's really hard to get out of a plane at 10,000 feet to fix stuff. That's why pilots don't just grab the keys and takeoff.
Yet we do it every time we drive. You don't have to go the extremes of using a list but you should, at the very least, do a walk around inspection.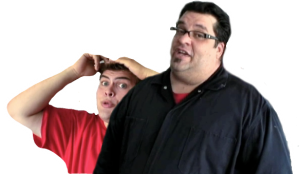 What should you look for? Do you see any fresh liquid? If so check the color. A brown color usually indicates an oil leak; a reddish color would indicate a transmission leak. Clear or rusty color could indicate water from your radiator or air conditioning. Hopefully the liquid was already there when you parked it. If not, don't take any chances. Get it to the mechanic.
Other items you should check as you walk around are the tires, headlights, taillights, windshields and mirrors. Check for any physical damage that could have occurred since you last drove the vehicle. If you find any, take pictures for your insurance.
By doing a walk around inspection before you drive you could save yourself a big headache down the road when a tow truck driver is doing a walk around inspection.
All material in this video is the Copyright of Comedy Defensive Driving School. ® is the Federally Registered Trademark of IDT, Inc. All rights reserved 1989-2015
**This course fulfills the requirements of the Basic Driver Improvement Course (BDI) the Traffic Collision Avoidance Course (TCAC) and Insurance reduction. This course can also be taken voluntarily to brush up on your driving skills.**