Using your mirrors allows you to see behind the car without actually having to turn around. From a safety standpoint they help keep your eyes on the road and still see what's going on behind you.
In the 1976 movie, "The Gumball Rally," racers are competing against each other in a rally from New York City to Long Beach. Prior to the start of the race, Franco, portrayed by Raul Julia, rips off the rear-view mirror and explains the first rule of Italian driving. "What's behind me is not important." How wrong he would be!
Adjusting the inside rear-view mirror:
• Adjust the inside rear-view mirror so you can see the entire rear window from the driver's seat. You should have to move only your eyes, not your head, when using this mirror.
• Drivers 6 feet tall or taller may find it helpful to turn the mirror upside down, if possible. This usually raises the bottom edge of the mirror about 1 to 2 inches and can substantially reduce a major blind area to the front for tall drivers.
Adjusting the exterior side-view mirrors:
• Drivers side-view mirror: Place your head against the left side window and set the mirror so you can just barely see the side of the car in the mirrors right side.
• Passenger's side-view mirror: Position your head so that it is just above the center console. Set the mirror so you can just barely see down the right side of the car in the left side corner of the mirror.
If the vehicle is not equipped with mirror-adjustment controls, you may need assistance when adjusting this mirror.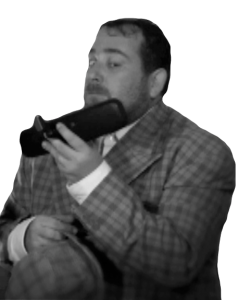 Remember that even with your mirrors properly adjusted, you might still have blind spots. Always glance over your shoulder before making any lane changes.
Franco eventually lost the "Gumball Rally" close to the finish line when he was distracted by a big-bosomed blonde running after him. Apparently, what was behind him was important.
All material in this video is the Copyright of Comedy Defensive Driving School® and is the Federally Registered Trademark of IDT, Inc. All rights reserved 1989-2015
**This course fulfills the requirements of the Basic Driver Improvement Course (BDI) the Traffic Collision Avoidance Course (TCAC) and Insurance reduction. This course can also be taken voluntarily to brush up on your driving skills.**