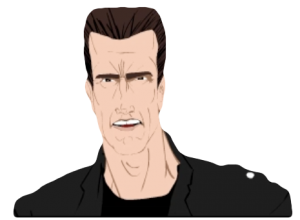 When trucks drive in the city they can be especially hazardous. When they make right turns they have to swing out wide. Do not pass a truck on the right, if it looks like it may be turning right at an intersection. Sometimes trucks have to swing out in the opposite lane to have enough radius to make their turn. If you try to make a pass on the side its turning the driver may not see you and it can crush your vehicle like a can of soda pop. It is difficult for a driver to see all the way around a vehicle. This is because big trucks have blind spots. Back off, give them some room. If you are attempting to drive around the truck, it may not see you pull along side. Trucks pull huge trailers, so stay clear from their rear. Trucks with trailers can't see vehicles that are following too closely behind them.
Can you see the truck driver's mirrors? If you can't see them they can't see you. The rear area directly behind a truck is a blind spot. Blind spots are areas around the semi tractor trailer where other vehicles disappear from the view of the trucker these are called no zones. Stay far enough behind a truck that you can see the truck driver's mirrors.
When passing a truck, start your pass farther back than when passing a car. It will take longer to complete the pass because of the truck's length, it's huge, so be sure you have plenty of clear road ahead before beginning your pass. Sometimes passing a truck can be difficult for two reasons and both have to do with wind. Trucks create a lot of turbulence at high speed it can be very difficult to keep control of your vehicle. During your pass turbulent air movement around the truck will make it seem as though you might be losing control of your vehicle. That's why it's best to stay as far over in your lane away from the truck as possible throughout your pass.
Another hazard when passing a big truck can be when it's raining. The spray from a truck, if there is enough water on the road, cannot only reduce your visibility but totally eliminate it. If you are going to pass make sure your headlights are on so the driver can see you approaching and also make sure you turn on your windshield wipers so you can see the truck and pass quickly.
Never hangout on either side of a truck. These side areas are the side no zone. Since the cab of a semi is so high, truckers may not see smaller cars as they pull alongside. If a truck were to change lanes while you're in the no zone, get out of his blind spots as quickly as possible.
Don't cut back into the semi's front no zone. Make sure there is plenty of room before moving in front of a semi after a pass. As soon as you can see the truck's front tires in your rearview mirror, it is time for you to move over. Before you pull in front of a truck, think about its stopping ability. Trucks can take 4 to 5 times longer to stop due to the varying sizes of loads they carry. Never pass a truck, and then cut it in front of them especially when stopping.
All material in this video is the Copyright of Comedy Defensive Driving School. ® is the Federally Registered Trademark of IDT, Inc. All rights reserved 1989-2015
**This course fulfills the requirements of the Traffic Ticket Dismissal for ALL courts in Texas and for Insurance reduction. This course can also be taken voluntarily to brush up on your driving skills.**