Tire Maintenance – Florida Traffic School Online Course
Tire Maintenance
There is no such thing as the perfect tire. However, properly maintained tires can give you a much better, safer and longer ride. An entire book could be written on tire maintenance. It probably won't make the New York Times best sellers list. It probably won't be made into a movie called, "Two Lugs and a Nut." staring, Johnny Depp, Tom Cruise, and Bradley Cooper. (sorry we couldn't find many celebrities with tire names except Bradley Cooper). Reviews for this movie could range from, "A complete Blowout." to "This movie had me on the edge of my rims."
Improperly maintained tires are sick tires. Signs of a sick tire include, low in pressure or flat, uneven wear and shallow treads. By keeping your tires maintained you are preventing sick tires.
Tires should be rotated every 3 to 5 thousand miles even if they don't show signs of wear. It can be done when you take the vehicle in for its regular oil change. This would be a good time to have them balanced as well. If the tire shows uneven wear you may have incorrect tire pressure or a mechanical problem. Worn tires cannot be fixed. In states where an inspection of your vehicle is required, worn tires will not pass.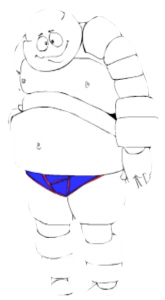 Tires should have visible tread of at least 2/32 of an inch across the base with no worn spots showing the ply. Smooth tires on wet roads at high speeds leads to hydroplaning. Hydroplaning is when your tires have lost contact with the road and are riding on a thin film of water. When your tires have left the road completely, this is called Flying. If you go to work where someone is constantly coughing and wheezing, you will take measures to insure you don't get sick. Take measures to keep your tires well as well.
All material in this video is the Copyright of Comedy Defensive Driving School. ® is the Federally Registered Trademark of IDT, Inc. All rights reserved 1989-2015
**This course fulfills the requirements of the Basic Driver Improvement Course (BDI) the Traffic Collision Avoidance Course (TCAC) and Insurance reduction. This course can also be taken voluntarily to brush up on your driving skills.**