SUVs and Pickups
Americans love their big far gas guzzling rolling city blocks of SUVs and Pickups. People claim they like driving them because they feel safe in the advent of a crash. The truth is the bigger the vehicle the greater the skill-level needed to control the vehicle. Larger cars may offer more protection in the event of a crash but smaller cars are more maneuverable, take up less space and decrease energy of movement quicker.
Because of their size, SUVs and pickups are not the best choice of vehicles for most. Soccer Moms may like them because they feel safe while they drive. Parents give them to their children to drive because they think bigger is safer. In truth, it's really just the opposite. Because of their additional weight SUV's are sluggish to turn, slower to react in an emergency situation and have longer braking distances. Because of their high center of gravity it increases their chance of flipping over if you lose control.
A few years back, American manufacturer were having problems with one of their SUV's rolling over when it had a tire blowout. That extra weight and size and height took those drivers by surprise and cost them their lives. It wasn't necessarily the vehicles fault. It could have been the lack of ability of the driver to know what to do in this instant. When you hit someone with a big SUV, the additional weight increases the force of impact and therefore the risk of death or injury to others. SUV's might offer a greater margin of safety because of their size and weight if they hit something. Because of their size and weight causes a lot of crashes especially when that driver is distracted by their kids in the back seat or is looking at their cell phone. They also use a lot of gas and it's difficult for others to see around them.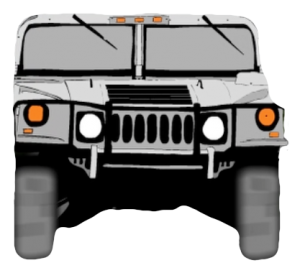 Pickup Trucks
Pickups can lose traction very easily when you accelerate hard or you are in rain, snow or ice because the majority of their weight is in the front. Should you have to brake suddenly in the middle of a corner where all the weight transfers to the front wheels the bed of the truck becomes even lighter causing the vehicle to lose traction in the rear which causes the vehicle to lose control.
All material in this video is the Copyright of Comedy Defensive Driving School® and is the Federally Registered Trademark of IDT, Inc. All rights reserved 1989-2018 **This course fulfills the requirements of the Basic Driver Improvement Course (BDI) the Traffic Collision Avoidance Course (TCAC) and Insurance reduction. This course can also be taken voluntarily to brush up on your driving skills.**