Speed, Emergencies And Safety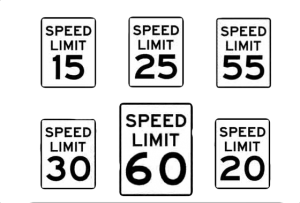 The maximum speed limit on most Florida freeways in the city is 60 mph. Anytime you are driving where there are four more lanes of travel and the posted speed limit is 60 mph, 40 mph is the minimum speed. If the speed limit is 70 the minimum is 50. In any business or residential district the maximum speed limit is 30 miles per hour although a municipality may set maximum speed lime of 20 or 25 miles per hour on local streets and highways after an investigation determines that such a speed limit is reasonable.
If you are traveling at the minimum speed under good road conditions, make every effort to stay in the right most lane. Many people think that when they exceed the speed limit it's okay because they're just going with the flow. Saying you're going with the flow of traffic is no excuse for disobeying the speed limit. If you're caught driving faster than the maximum speed limit you could get a traffic ticket regardless of how fast the other guys are going. There may be times when you're driving the posted speed limit yet you're still going too fast for the road conditions.
There are a lot of places where you have to pay attention to advisory speeds that are posted on curves or off ramps on the highways, construction zones and school zones. These are called these special zones. Special zones can have different speed limits at different times of the day. Regardless of the posted speed limit if an officer observes you traveling at a speed that they feel is an endangerment to yourself or others you will get a ticket. If you get caught speeding in one of these special zones you can expect to pay double what a normal fine would cost you. You can be expecting to pay anywhere from 50 to 500 on your fine plus getting three to four points on your driving record depending on the speed that you were going when you were caught.
All material in this video is the Copyright of Comedy Defensive Driving School® and is the Federally Registered Trademark of IDT, Inc. All rights reserved 1989-2018 **This course fulfills the requirements of the Basic Driver Improvement Course (BDI) the Traffic Collision Avoidance Course (TCAC) and Insurance reduction. This course can also be taken voluntarily to brush up on your driving skills.**