Railroad Crossings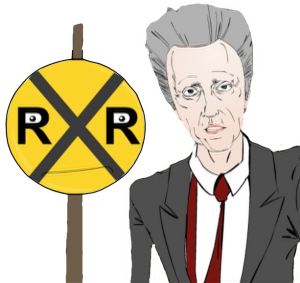 If you're approaching a cross buck, you should be prepared because you may have to stop. Cross bucks are in place to signify railroad crossings. So don't speed up there could be a train coming. A good distance to stop in front of the flashing lights or the gate is about 15 feet. If there is a flagman, or any other device directing you to stop sooner, you must do so. Remember a cross buck gives you advance notice of a railroad crossing is up ahead, so slow down, stop, look and listen.
It is illegal to go around gates which are down or to drive through flashing lights if you can't see or hear the train coming regardless of whether or not you can hear or see the train coming. However, no stop needs to be made at any such crossing where a police officer or a traffic control signal directs traffic to proceed. Nearly half of all train collisions occur at crossings with functioning active warning devices. Remember trains cannot stop quickly. A 150 car freight train traveling 50 mph takes 8,000 ft or 1 and 1 half miles to stop. The highway department and railroad companies mark most of the public crossings with at least one of these:
• Red flashing lights,
• whistles or bells,
• closing gates,
• cross bucks,
• stop signs or
• other signs for warning you.
RR stands for railroad. There's almost no excuse for a crash between a train and a motor vehicle.
After the year 2,000, it is estimated there will be over 270,000 railroad crossings in the United States and over 600 people a year will die in crashes involving a train and motor vehicle. Don't be on the tracks when a train is approaching. It's that simple.
Some people actually drive into the sides of trains. Some of the reasons people give for having a crash with a train are:
• Misjudging the train's speed,
• Impatience,
• misperception of depth and
• driver complacency – which is simply not paying attention.
Actions to take if your car gets stuck on the tracks:
• Get out of your car and bring everyone with you.
• If you have time and a train is not coming push the car off the tracks.
• If you can't get your car off the tracks, see if there is someone around who can help you.
• Call 911 for the local police department, so they can notify the railroad in case there is a train scheduled for that track.
If your car stops on the tracks when a train is coming get out of the vehicle immediately. Don't stop to gather possessions. Run in the direction of the train but angling away from the tracks. Keep your head down.
All material in this video is the Copyright of Comedy Defensive Driving School® and is the Federally Registered Trademark of IDT, Inc. All rights reserved 1989-2018 **This course fulfills the requirements of the Traffic Ticket Dismissal for ALL courts in Texas and for Insurance reduction. This course can also be taken voluntarily to brush up on your driving skills.**