Railroad Crossings
Watching a train collide with an 18 wheeler stuck on railroad crossings in a movie is, to say the least, spectacular. The force of the impact sends debris all over the place. Luckily for the driver of the truck he usually escapes just in the nick of time. It's good action.
The actuality of railroad crossings collision is, on the other hand, quite a different story. If there is a collision of a train with a vehicle in a crossing, the driver of the vehicle is at fault. Why is that? Because the train always has the right of way. A train cannot give the right of way. A train has no other option or direction it can take, because it's on a track! Trains don't swerve.
Trains have a one-track mind. (sorry, we have a pun track mind)
In the U.S. there are over 38,000 railroad crossings where railroad tracks and roadways cross at different levels according to the US Department Of Transportation Federal Railroad Association (the USDOTFRA!) A train hits someone in America every 115 minutes, often with fatal results. According to Operation Lifesaver, a national non-profit organization, nearly 2,000 Americans are killed and injured at highway/rail grade crossings each year. The motorist in a train/motor vehicle collision is 40 times more likely to die than in a collision between two motor vehicles. It's your responsibility to avoid a train since it cannot avoid you.
You can avoid being a statistic by following these simple tips.
• Slow down when approaching a railroad crossings and look both ways, twice.
• Never race a train to cross the tracks
• Never pass another vehicle within 100 fee of a rail road crossings
• Watch out for vehicles that must stop at railroad crossings, like school buses or trucks carrying hazardous material
• When approaching a railroad crossing, roll down your windows, turn off the radio or air conditioner and listen for whistles and bells
• Always yield to flashing lights whistles, closing gates cross-bucks or stop signs
• Never shift gears on the railroad crossings, downshift before you reach it.
• If you must stop, keep a distance of 15 to 50 feet from the tracks. Since the tracks are four feet, eight and a half inches wide, and the train hangs three feet past the rails on each side, be sure to leave enough space between your vehicle and the tracks.
• Teach children that the railroad is never a place to play, walk, run, bike ride, or use as a short cut. Don't fish from railroad bridges either.
• Always cross the tracks at the designated railroad crossings or pedestrian crossing.
• Don't be fooled by the optical illusion presented by the train. It is always moving faster and is much closer than you think.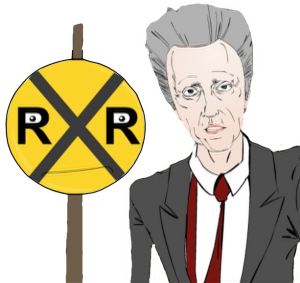 All material in this video is the Copyright of Comedy Defensive Driving School® and is the Federally Registered Trademark of IDT, Inc. All rights reserved 1989-2018 **This course fulfills the requirements of the Basic Driver Improvement Course (BDI) the Traffic Collision Avoidance Course (TCAC) and Insurance reduction. This course can also be taken voluntarily to brush up on your driving skills.**