Pedestrians
Pedestrians have even less physical protection than motorcyclists and bicyclists. Pedestrians are required by law to obey traffic signs and signals. Drivers are required to yield to pedestrians legally using crosswalks and crossing with a green light.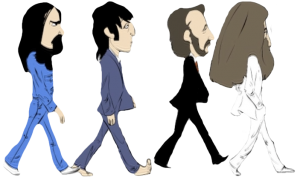 A crosswalk is any portion of a road or intersection indicated by lines or markings for pedestrian crossing. Running the stop sign or stop light or injuring the pedestrian can result in forfeiture of driving privileges.
• Minimize your distractions. Turn it off the cell phone. Pay attention to the walking environment. Seems like you've read this before.
• Look both ways when crossing the street, including intersections.
• Pay attention to the stoplights and painted signs on the streets. Make sure you are only walking when given the proper signal, and don't rush to get across as the lights are changing from walk to stop.
• Be alert when crossing the street and look for drivers that are speeding and may not have enough time to slow down before reaching the red light or stop sign.
• If you have been drinking, your impaired judgment and dulled senses will make it more difficult to get to your destination. Call a taxi, a friend, or a family member to give you a ride or walk with you.
• At night, be sure to wear bright or reflective clothing and carry a flashlight.
• Use sidewalks when available. If you must walk in the street, be sure to walk facing oncoming traffic.
• When encountering a vehicle make eye contact with the driver to acknowledge that you see them.
Florida owns the top four deadliest metropolitan areas in the US for pedestrians. Orlando/Kissimmee, Tampa/St. Petersburg/ Clearwater, Jacksonville and Miami/Fort Lauderdale/Pompano. You have a better chance of surviving a shark attack wearing a meat vest, than you do crossing the road in Florida.
All material in this video is the Copyright of Comedy Defensive Driving School® and is the Federally Registered Trademark of IDT, Inc. All rights reserved 1989-2018 **This course fulfills the requirements of the Basic Driver Improvement Course (BDI) the Traffic Collision Avoidance Course (TCAC) and Insurance reduction. This course can also be taken voluntarily to brush up on your driving skills.**