Motorcycles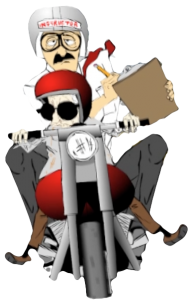 If you ride a motorcycle you are subject to the same laws and rules required to operate a car. s.316.208, F.S. Being properly licensed to operate a motorcycle is one of the first steps to becoming a safe rider.
Anyone who wishes to get licensed to ride a motorcycle, must first complete a Florida Rider Training Program. Part of that training is acquiring the same knowledge and understanding you need to get a license to drive a car, but in addition you must:
• Exhibit knowledge in the operation of a motorcycle and be familiar with any traffic laws specifically relating to a motorcycle.
• Include a minimum of 12 hours of instruction, at least 6 hours of which shall consist of actual motorcycle operation.
• And then be able to demonstrate your ability to operated a motorcycle s.322.12 / s.322.0255, F.S.
There's a good reason the State of Florida wants you to take a Florida Rider Training Program. Motorcycles pose special hazards for drivers of cars and trucks. They're smaller and faster, they turn and brake more adeptly than other vehicles, and they're harder to see. So you as a driver of a car or truck need to be extra cautious around motorcycles. Unlike other vehicles a motorcyclist's are not protected by a hard crunchy outer shell of steel. Motorcycles don't have the added protection of safety belts. In a serious crash a motorcyclist is very likely to be thrown off their motorcycle and onto the pavement. The only protection that can be provided for a motorcyclist is a helmet and a proper helmet can save your life. If you are under the age of 21 it's also the law that you have to wear a helmet. If you're over 21 you don't have to, but you do have to wear protective eye-wear and be able to show proof of medical insurance of at least ten thousand dollars of coverage that's so it will pay for any injuries. s.316.211, F.S.
Alcohol is a major factor contributing to motorcycle related crashes in Florida. It's reported that motorcyclists in fatal crashes had BAC levels higher than any other type of motor vehicle operator. NHTSA Fatal Two-Vehicle Motorcycle Collision/crash/crashes, 2007 (DOT HS 810 834). Almost half of the motorcycle operators who died in single vehicle crashes had BAC Levels of .08 or higher. Of those killed, almost 65 percent were on weekend nights and excessive speed was also a contributing factor. (Source – NHTSA Comparison of Motorcycle Rider Fatalities in Traffic Collision/crash/crashes, 2005 – 2006 (DOT HS 810 820) With that in mind, never mix drinking and riding.
Six tips to help you deal with motorcycles:
1. Create a larger safe space between you and the motorcycle in front of your car.
2. Don't tailgate motorcycles because they can stop faster than your car.
3. When passing a motorcycle, treat it as if it were as wide as a real car. Don't scoot up too close.
4. Allow oncoming motorcycles plenty of room, especially when turning in front of them.
5. Before changing lanes, make sure you check your blind spots and make sure there are no motorcycles there and;
6. If you notice a motorcyclist in any of the lanes around you; always take a second look and make sure that they are not in the lane you want to go into.
All material in this video is the Copyright of Comedy Defensive Driving School® and is the Federally Registered Trademark of IDT, Inc. All rights reserved 1989-2018 **This course fulfills the requirements of the Basic Driver Improvement Course (BDI) the Traffic Collision Avoidance Course (TCAC) and Insurance reduction. This course can also be taken voluntarily to brush up on your driving skills.**