Getting Pulled Over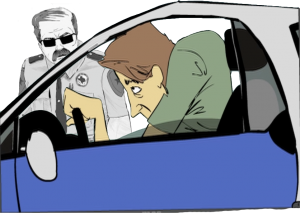 It is inevitable that sooner or later a law enforcement officer will pull you over. You might be caught speeding or running a stop sign, maybe it will be running a red light or the sin of all sins – your taillight is out.
If you see red flashing lights in your mirror then slow down and merge to the right side of the road as soon as possible. It might not be you they are stopping and you have a legal obligation to move over. If the flashing lights pass you then breath a sigh of relief and continue on. If, on the other hand, the lights position themselves behind you then guess what?
Remain calm and try to pull completely off the road as far as possible. Remember, this is as stressful a time for the officer as it is for you. You want to do everything you can to ease his stress… because he's the one with the gun. And with cops these days shooting into mini vans loaded with kids it would behoove you not to spike their adrenalin. Of course if you're one of them there Texas Separatist, this might be your opportunity to play the Wild West of yore.
Follow these procedures if you are being pulled over by the police or a law enforcement agency:
• Pull off the roadway as quickly and far away from traffic as possible. You never know where that drunk driver is lurking, just waiting to rear-end you while you're sitting there waiting for your ticket!
• Turn off your vehicle. This will give the officer the indication you and your van full of kids aren't going to make a run for it.
• Remain in your vehicle. No getting out and dancing for the dash-cam or swearing at the officer.
• Roll down your windows so the officer can see inside.
• If its dark, turn on interior lights.
• Place your keys in sight on the dash.
• Keep your hands in plain sight, preferably on your steering wheel. And don't start digging around looking for your drivers license or insurance card until the officer has spoken to you.
• Follow the instructions of the officer.
Hopefully you've done it all correctly by showing the officer your drivers license and insurance, and swearing you'll watch your speed and slow down. If you do all that… wait! What am I telling you all this for – this is how you got here in the first place. Congratulations.
All material in this video is the Copyright of Comedy Defensive Driving School. ® is the Federally Registered Trademark of IDT, Inc. All rights reserved 1989-2018 **This course fulfills the requirements of the Traffic Ticket Dismissal for ALL courts in Texas and for Insurance reduction. This course can also be taken voluntarily to brush up on your driving skills.**