FL – Certificate Delivery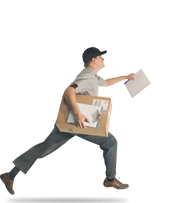 Once you have successfully completed our 4-hour Basic Driver Improvement Course your information will be electronically submitted directly into the Florida DMV's Certificate Delivery System.
We process certificates Monday – Friday from 8am – 4pm CST.  No weekend or Holiday processing.
You will receive a PDF file as a receipt of completion via e-mail for your records.
Following submission to the DMV, here is your next step:
Check with your court or county to see if they require proof of completion.  We only submit to the DMV, it is your responsibility to show proof to the court or county if needed.
If either requires proof, the PDF file that is emailed to you can be printed and turned in to show completion of course.
If elected to take on your own to avoid points, your information has already been submitted to the DMV and you can keep the PDF file for your records.
Comedy Defensive Driving School® is the Federally Registered Trademark of IDT, Inc. All rights reserved 1989-2018 **This course fulfills the requirements of the Basic Driver Improvement Course (BDI) the Traffic Collision Avoidance Course (TCAC) and Insurance reduction. This course can also be taken voluntarily to brush up on your driving skills.**