Fatigue
Drowsy drivers can be just as dangerous impaired as a driver who has been drinking possibly more so because they don't realize they are impaired.
Fatigue impairs judgment and insight. 70 million Americans are functioning on little or no sleep, and recent studies suggest that almost 20-25 percent of all serious collisions are associated with driver sleepiness. The human body has two sleepy periods. The primary one is between midnight and 6am and the other is early to mid-afternoon. Americans use physical activity and stimulants to cope with sleep loss which masks their level of sleepiness and when performing repetitive tasks, such as driving long distances. Boredom sets in and sleep comes quickly. 37 percent of drivers reported dozing off while driving at least once in the past year. The study also found many of the drivers weren't even aware they had fallen asleep. Sleep represents 1/3 of our lives and has a major impact on how we live, think and function during the other two-thirds. Sleep sustains our alertness and mental performance. Most adults need 7-9 hours of sleep a night. When you restrict your sleep to 4-6 hours per night for just two weeks, you essentially reduce your mental performance to someone who hasn't sleep for two days. Losing sleep reduces your mental performance.
Fatigue can affect anyone, but some of us are at a higher risk for fatigue-related crashes. Working more than 60 hours a week increases your risk of being in a traffic crash by 40 percent. Shift workers never fully adjust to shift work, because the sleep-wake cycle is dictated by dark and light, so they are more vulnerable to succumbing to sleep while driving home from work. The under 30 age group accounts for only 1⁄4 of licensed drivers but accounts for 66 percent of fatigue related crashes. Males are responsible for approximately 75 percent of all fatigue related crashes.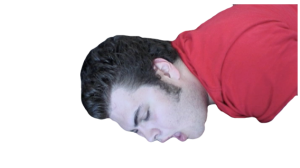 Approximately 40 million Americans suffer from sleep disorders. These sufferers are 700 percent more likely to have a fatigue related crash. Being asleep at the wheel is a high-risk behavior. Most police officers have reported stopping a driver they thought who had been drinking, but it turned out they were fatigued.
If you are so tired that someone thinks you have been drinking, then your brain is officially impaired.
Here are 12 signs you might be too tired to drive:
1. continually yawning.
2. Irritable and restless
3. Your wind wanders and you have disconnected thoughts.
4. Keeping your eyes open
5. Don't remember driving the last few miles.
6. Constantly drifting out of your lane.
7. Speed fluctuates.
8. Following to closely.
9. Weaving in and out of traffic
10. Missing traffic signals.
11. Having trouble keeping your head up.
12. Falling asleep at the wheel.
Tips to fight fatigue
Don't skimp on sleep. Don't drive long distances when you would be sleeping.
Avoid alcohol or medication that could make you drowsy when driving. While driving long trips, schedule stops every few hundred miles.
Take along someone who annoys the heck out of you but, But don't let them stress you out.
There are now strategies drivers are often taught to counteract fatigue, such as:
Rolling down your windows. Turning up the radio. Stopping to stretch. However test is the ultimate answer. It's recommend that you stop for a caffeinated drink but because it takes about 45 minutes to take you effect, you need to take a nap while you wait. Even this is only a temporary solution, rest is what you really need.
All material in this video is the Copyright of Comedy Defensive Driving School. ® is the Federally Registered Trademark of IDT, Inc. All rights reserved 1989-2018