Exiting The Freeway
You've been on the freeway for a few hours and you're fuel tank is approaching empty, its time to pull over and refuel. Your freeway exit options are limited to the exit ramp.
Since you are a good driver you have been paying attention to the blue service signs that indicate where the fuel stations and diners are located. When you are nearing the exit you desire check your mirrors and blind spots. When it's clear indicate a right lane change with your signals and make a smooth lane move.
Once you are in the right lane and if you have plenty of time to exit, turn off your signal and wait until it is time to depart. Never exit from the freeway from the middle lane or fast lane all in one action. Change lanes one at a time.
Now that your exit is approaching signal lane change to the right and begin slowing down. Watch the traffic on the frontage road.
Traffic exiting the freeway has the right of way but traffic exiting the freeway may not give the right-of-way to those driving the frontage road. Why is that? There are two reasons. One, there might be someone right behind you also exiting the freeway as well. Two, the exiting driver cannot see the traffic on the frontage road so in order for them to see the frontage road traffic they must look over their shoulder to find you. You are able to see them without the use of mirrors and you should never take your eyes off the road in front of you.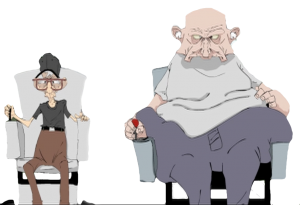 When you have exited onto the side road or frontage road, remember that you must be at or below the posted speed limit.
If you missed your exit, it's not the end of the world there are more of them down the road. Don't panic and drive backwards down an entrance ramp to get off the freeway, you might just be staring down the grill of a semi-truck trying to get on. In this situation, you will surely loose. And don't try ripping across three lanes to make it causing the traffic behind you to have to swerve or hit their brakes and possibly get them rear-ended by some poor sap that was just trying to get to where they were going. Remember, I ain't just you out there, so don't drive like it.
All material in this video is the Copyright of Comedy Defensive Driving School. ® is the Federally Registered Trademark of IDT, Inc. All rights reserved 1989-2018 **This course fulfills the requirements of the Basic Driver Improvement Course (BDI) the Traffic Collision Avoidance Course (TCAC) and Insurance reduction. This course can also be taken voluntarily to brush up on your driving skills.**